Manage your classes in the palm of your hand. Engage students with the random student selector.
Attendance has never been easier.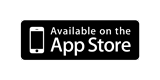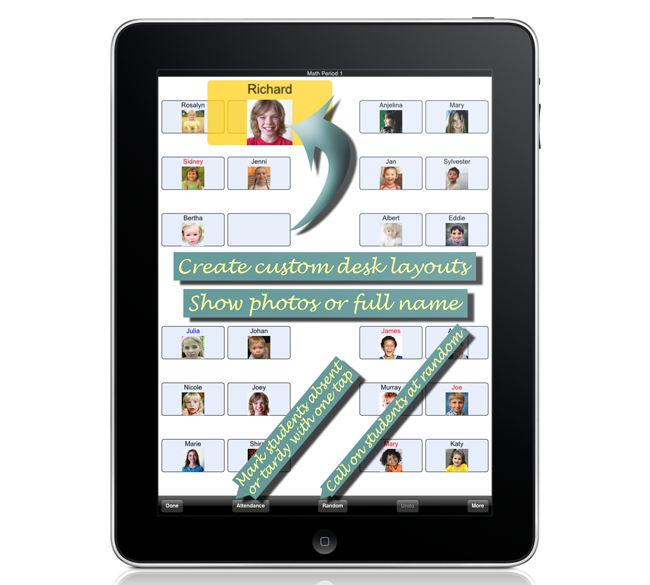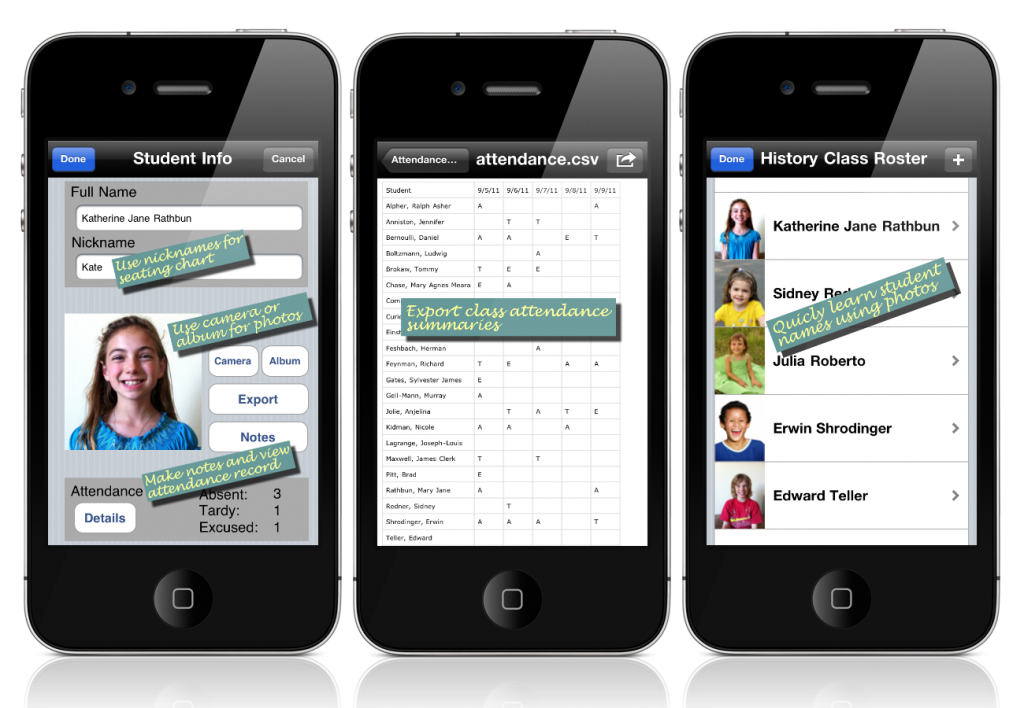 FEATURES
Load student names using three options: from e-mail attachment, type in, or copy and paste. See our FAQ for more info.
Drag and drop students to change seating arrangement.
Choose how you want your seating chart to look: show student nicknames, full names, or photos plus nickname.
View, export, and print PDF seating charts with options to include photos and reverse the perspective of the chart. This will allow you to print out a seating chart from the students' view.
Record attendance by simply tapping on the student to mark Absent, Tardy, or Excused. The default state is Present.
View, export, and print a spreadsheet of class attendance records for a range of dates that you select (up to 1 year).
Choose students at random for class participation and class discussion.
Automatically keep track of which students have been selected using Random mode.
Toggle between photos and names in the seating chart by tapping on the class title, and use this "flashcard" feature to quickly learn and quiz yourself on student names.
Tap on a student to access attendance history, notes, and to load a photo using your mobile device's photo album or camera.
Edit attendance records.
Export student records to e-mail.
Use the classroom layout screen to change the number of rows and columns by panning up/down and left/right.
Customize classroom layouts by creating a grid pattern for your desks, and then hiding selected desks.
Scramble option allows instant creation of new seating arrangement.
Add new students to class roster.
Delete students by swiping student name in roster.
Edit the list of classes to rearrange the order of classes, change the class name, and delete classes.
Maximum size desk layout is 15×15 for iPhone/iPod touch and 30×30 for iPad.
Compatible with iPhone, iPad, and iPod touch, iOS 5.0 or later.